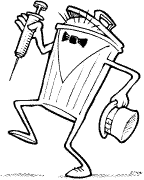 Let's avoid throwing our sharps in the trash or toilet; I don't want to see them wash up on the beach and you probably don't either. It's even more important to avoid having some poor person get stuck and not know whose needle it was – that is painful and scary.
In the diabetes world, sharps include lancets (for sticking fingers), syringes, and needles. Labs and clinics typically pay by weight to have their sharps taken away and disposed of, so they usually don't want the public bringing their sharps containers in.
So how do we "properly" dispose of sharps? The FDA has an informative webpage on sharps disposal. They refer people to the Coalition for Safe Community Needle Disposal for state-specific information, as rules vary state by state.
If you use an insulin or other medication pen (Byetta, Victoza), pen needles can be removed and disposed of in your "sharps container." For those taking Bydureon, the needle that comes with the medication kit can be removed from the syringe and thrown in the "sharps container." And for insulin pump users, needles can be separated from tubing and/or cartridges. This helps keep extra, non-sharp clutter out of the sharps container. That stuff can go directly in the trash.
When traveling within the United States, I carry plastic bags. I put used syringes either in a separate compartment in my suitcase, or in one of those bags. When I get home I dispose of them. I also keep a sharps container in places I visit most frequently (the homes of family). One friend reported that during International travel she has been asked to leave her used sharps at Customs, so there may be times when you won't have to lug them home, and hopefully Customs will dispose of them properly.
Any other tips?