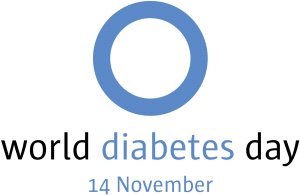 Today is World Diabetes Day. It's the anniversary of Fred Banting's birthday. It's Tuesday. Today we wear blue, display blue circles, and talk about diabetes – funding, research, new technologies, new devices, new treatments, a cure.
Last week I worked with two kids who are brand new to diabetes. For the first time I found myself unable to say that they'd have diabetes for the rest of their lives. I'm confident they'll benefit from the artificial pancreas and it's likely they'll be alive when a cure is found.
Holy cow! Did I actually think that?
I am grateful to the individuals, groups, and organizations who are dedicated to making life better for those of us with diabetes. Thank you to those who are working on ending this thing once and for all.
In the meantime, I will continue to work on making the world a better place for people with diabetes right now, today. And I will be cheering for those who are working on making it a world without diabetes tomorrow.