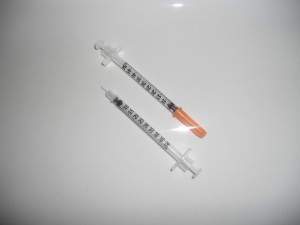 Many people fear or resist going on insulin because of the needles. The truth is the needles we use for insulin today are very different from what we had years ago: they are shorter and thinner. The upside to shorter and thinner is that we feel them less. The downside is that they get duller faster.
Lots of people reuse insulin syringes (needles). The official message is to change your syringe each time you take insulin. But realistically it's easier (and cheaper) to reuse them. In this case, it's important to make sure you are the only person using your insulin syringes (don't share!!). When the needle gets dull it will hurt more going in, or it may not go in at all.
When I was at diabetes camp years ago, we were told that it was ok to inject through clothing. The point was that it's better to take insulin – even if that means injecting through clothing – than to not take it at all. Over the years I have occasionally injected through nylons (panty hose), jeans, or other clothing. This is a particularly good option if we're wearing something that is not conducive to being removed quickly or in a public or semi-public setting.
Recently I was in this situation, and I attempted to inject through my jeans. Yikes! I discovered that the short needles I use are too short to make it through the jeans and into my fatty tissue! So a little update to the whole injecting through clothing deal is that we now need to make sure the needle is long enough. It's fine to use short needles; however, if you're using a needle that is 8mm or less in length, it is most likely too short to go through jeans.