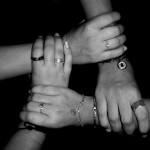 The Diabetes Online Community (DOC) is a powerful entity. It's made up of websites, social networks, and blogs for, by, and about people with diabetes. What a great way to find support, ideas, maybe even answers to questions. Definitely a great way to connect with other people who have similar experiences and can relate to each other!
Yesterday I had the amazing opportunity to meet one of my DOC colleagues in person. About two months ago, Will Ryan sent me an email message saying that he and his wife were coming to Steamboat for a ski week. The three of us ended up having breakfast together, and we had so much to talk about!
It turns out that Will and I have the same philosophy about approaching diabetes in a positive way. The word "choice" came up a lot! Will is an advocate for people with diabetes; he shares his positive energy and ideas through public speaking and writing.
Meeting Will Ryan in person yesterday reminded me that while web-based connections are wonderful and keep us going day-to-day, a live, in-person meeting is still very valuable. Living in northwest Colorado, I often feel isolated. It's funny that I don't feel isolated in terms of diabetes, but more in terms of thoughts and ideas. I will continue to take advantage of in-person meetings whenever possible, and I hope you can too!
By the way, if Diabetes Online Community is a new term for you, do a web search for "diabetes blogs," and "diabetes social networks" and you will be connected to a whole new world. Welcome!