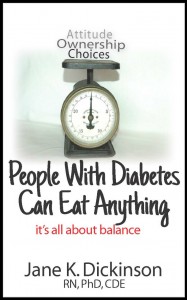 Many patients ask me, "What diabetes book should I buy?" And there are so many out there that it's hard to answer. A few years ago I met a patient who was brand new to diabetes. When she and her fiance arrived for their second visit with me, he looked me straight in the eye and asked, "Where is the book that says we can do this, and she's going to be all right?" My response was, "I'm working on it."
I am very excited to announce that the "diabetes book" that I've been working on is now available. It's a book about living well with diabetes, and it's about strength. My book is for people who have diabetes – from the newly diagnosed to veterans – and for those without. It's for caregivers and health care professionals, too.
The idea for this book started at a small town hospital in northwest Colorado. A dietitian colleague and I gave a talk for the physicians called, "People With Diabetes Can Eat Anything." I was tired of the mindset that there are certain things people can and can't eat, which can actually lead to feelings of limitation and self-defeat. Instead, it's all about finding balance in life, through choices.
You can learn more about my book, People With Diabetes Can Eat Anything, by clicking here.