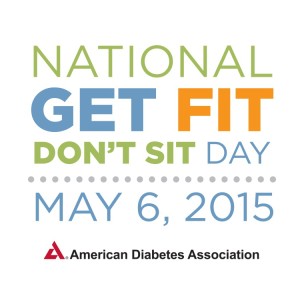 Tomorrow is the American Diabetes Association's first National Get Fit Don't Sit Day. The motivation for this event was a report published in January of this year that said we are sitting too much!
I, for one, am guilty as charged. I work from home, at my computer. I sit for long periods of time. Luckily, I have a dog who has to be walked, and whenever I'm on a phone call I walk around the house, but otherwise I sit. And "sitting for hours every day creates serious health risks." Although the risk is lower for those who exercise, it's still not great.
They say we can stretch, walk, or in some way move our bodies – every 90 minutes – to solve the problem or at least decrease our risk.
I apologize for being a little late with this information – there is a toolkit available from ADA to help with ideas for getting fit. But at the very least we can be creative and figure out ways to move more tomorrow. And then keep it up going forward.